Running a Facebook contest has never been easier. Since removing their contest restrictions in 2013 (before that, we weren't allow to actually administer a Facebook contest; only through an app), businesses have come up with lots of creative ways to increase engagement by administering contests from within their platform. According to Facebook's
new rules
, businesses can now:
Collect entries by having users post on the page or comment/like a post
Collect entries through page messages
Collect entries through page 'likes'
This opens up a whole new world for businesses; but many businesses still haven't jumped in and actually tried holding a Facebook contest.
Killer Facebook Contest Ideas
The first 4 ideas are actually less 'ideas' and more 'vehicles' for how you're going to administer your contest. These are the 4 main ways you can hold a contest on your Facebook page (as opposed to using an app). We also refer to these astimeline contests.
1. Like the Post to Win
Such a simple contest to implement, yet so effective. Simply create a contest post asking fans to 'like' the post. Winners are then chosen randomly from the pool of 'likers'. The downside to this type of contest is that your post often won't receive a ton of traction (reach) if people are just liking it; to avoid this problem, you may want to try #2 or #3.
2. Comment to Win
Comment to win, as with like to win, is quick and easy to implement; it has the advantage though of gaining more traction, as Facebook's algorithms give more weight to comments over likes. You can ask people to write a random comment, answer a question, or even just type in a symbol – it doesn't really matter what the entry consists of.
3. Share to Win
We have talked briefly about like and comment contests – but share to win is perhaps the best way to increase the reach of your contest post. Because sharing requires users to be more actively engaged, Facebook's algorithms seem to give far more weight to shares than to likes, and somewhat more weight over comments. For this reason, a 'like and share' post can be particularly effective. 4. 
Like the Page to Win
Sometimes the best ideas are the simplest ones. Perhaps the easiest contest to run is a 'like our page' to enter contest. It's quick, easy and painless for entrants, and after the contest is over, they will continue to get updates from your page. Now let's move on to some ways you can specifically use one of the 4 'vehicles' above.
5. Caption This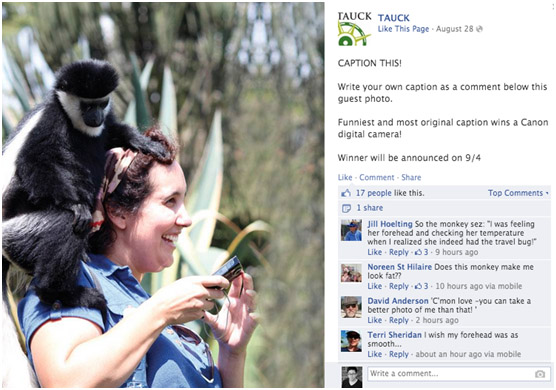 Caption contests are great as they allow your fans to show a little personality; an added bonus is that other entrants will actually enjoy reading other entries!
6. Help us Come up With an Idea
These types of contests are great because they can not only help you solve a problem or come up with new and creative ideas, but they get people engaged with and invested in your brand. You can ask for help with naming a product, coming up with new product ideas, or ask for help with a particular strategy. Best idea wins!
7. Fill in the Blank
Fill in the blank contests are great as they have the potential to actually get people
thinking
. The contest consists of a sentence of paragraph, and your fans are asked to add their own unique perspective by, obviously, filling in the blanks.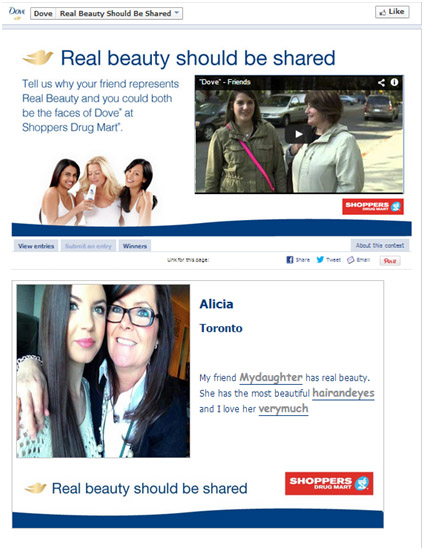 8. Multiple Choice
A simple idea that is low effort, both for you and for entrants, is a multiple choice contest. Simply ask a question, give fans a few options in terms of answers, and then select your winner from among the entrants with the right answers.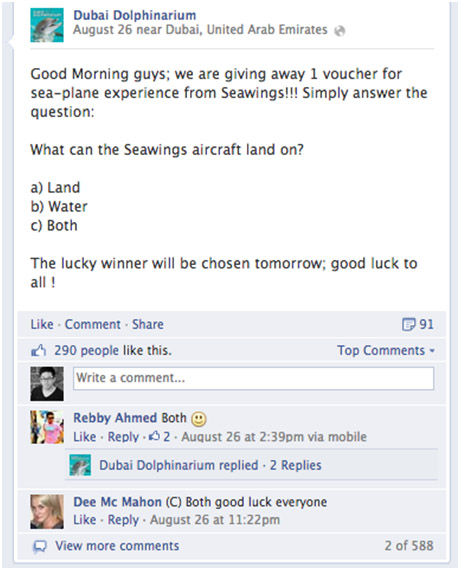 9. Fan of the Week
Skittles has devised an ingenious way to run a contest
without having to give anything away.
Does it get any better than that? Each week they ask for entries into their 'BFF contest': Best Fan Forever (well…for this week only!)'. Entrants are asked to send in a photo of themselves with a bag of Skittles – that's it! One winner is chosen each week, and their photo is posted on the Skittles page.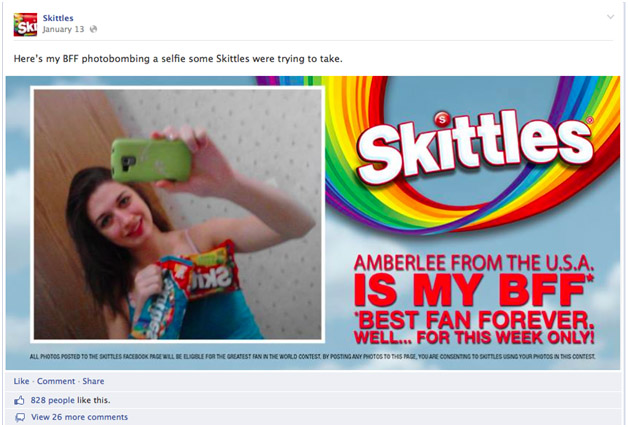 10. Tag the Photo
This idea deviates a bit from our 4 main contest vehicles, but is a fantastic way to generate a bit of buzz around your brand. Post a picture and ask your fans to tag themselves in it; when people tag the photo, it will show up in their friends' newsfeeds and get them wondering, 'what's this all about'?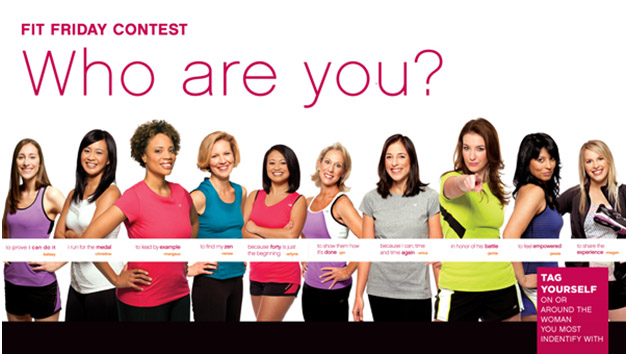 11. Vote for Your Favorite Photo
Ask for photo submissions, and then ask your fans to vote for their favorite. The best part of this type of contest is that people tend to ask family and friends to vote for their photo; meaning extra likes for your page.
12. "We will hold a giveaway when we reach ______ fans".
Specifying at what point you'll hold your giveaway is great for encouraging people to take action by liking your page or post, or sharing your contest. It doesn't matter what the magic number is; just make it realistic and attainable (for instance, if you have 1000 fans and say 'We'll hold a giveaway when we reach 1 million fans', that's not realistic).
13.  "Be # _____ and win"
This one is similar to #12, but with a twist. Instead of simply saying you will hold a giveaway when you reach a certain number of likes, instead award the 100
th
or 1000
th
(or whatever) fan the prize. Obviously this one works best when used as a promoted post – so the friends of your fans (who are not fans themselves) see the post and hopefully 'like' your page to enter. There are so many creative ways you can utilize contests for driving traffic and engagement on (and to) your Facebook page. These ideas are only the tip of iceberg! With Facebook's contest restrictions lifted, you can go ahead and let your creativity run wild – you are only limited by your imagination!